Journey to a Gentle Night's Sleep 
Group Coaching & Community to Fix Your Baby's Sleep 
...for a gentle way of getting your baby to sleep through the night?
...to stop rocking/feeding/assisting your baby to sleep?
...to get your baby on the right number of night feeds for their age?
...to have a flexible routine so you can manage days out and social activities without ruining sleep
...to fix any early morning wake ups?
...for professional and comprehensive advice on all sleep methods ?
...to have your baby on the correct number of naps for their age?
...to have your evenings to yourself ?
...to apply your learning from the course to your other children and get your entire household sleeping?
...for support from other parents who are also sleep deprived and experiencing similar issues?
...for an exclusive space to ask questions personal to you and your circumstances?
I HEAR YOU!
 I have created a simple Group Coaching Program to fix your child's sleep within a private, supportive community of families on the same journey as you.
HI! I AM SEEMA BARUA AND BABY SLEEP IS MY SPECIALITY
I am an International Baby and Toddler Sleep Consultant and Psychotherapist.
I have been working with families in anxiety, depression and trauma for 18 years.
Over the years I have helped hundreds of families transform their lives and their children's lives.
I am on a mission to reach out to as many women and families as I possibly can. For one simple reason – to make their lives easier and get back to their old selves. 
As a mother of 3 beautiful little girls, I know how exhausting it is.
When I had my first daughter I was so depressed, I cried every night in bed as she latched on to me and I was beyond exhausted.
Working 9 to 5 and felt like I was in a dark hole.
With my second daughter, Deveena, I hired a sleep coach when she was 4 months old.
Damn it was a different ball game!
Our family's life completely changed. And that is what I'm here to do for you.
This program is for you if:
You do not have the time to commit to my 1:1 Two Week Comprehensive Sleep Program
You need the flexibility to dip in and out of live calls, replays, videos, PDF's with a community and life time access so you can learn at your own pace. 
You prefer a gentle approach to getting your little one to sleep.
You want to be able to spend quality time with your partner or other children in the evenings.
You want to achieve your sleep goals in a way which feels comfortable, empowering and supportive.
WHAT TO EXPECT ON THE PROGRAM:
No longer be sleep deprived
have your mind, body and sanity back
Have your baby self settling and sleeping through the night
have your baby On the correct number of night feeds
have your baby sleeping for the correct amount of daytime sleep
Have a long term plan to keep sleep on track when natural developments occur such as teething, regressions, nap transitions, growth spurts
Be confident in getting on with life as normal with nursery, childcare, work commitments and social activities without sleep being affected
Have more time with your family
have a space to explore your own emotional well-being
gain knowledge, clarity and confidence around milk and food schedules, quantity and types of food to give
learn about the bedroom environment
feel empowered because you have the tools to deal with any future sleep issues if the arise
Simple, step by step videos and worksheets
Lifetime access to the course material
Private Facebook community for members only
CHOOSE THE APPROPRIATE AGE GROUP FOR YOU:
Individual Sleep Assessments and Reflux Assessment
Bedroom Environment
Sleep Methods
Weaning on to Solids (3 – 24 months)
Nutrition & Sleep (2 years+)
Getting your child sleeping through the night 
Night feeds
Feeding Schedules, Issues & Red Flags
Nap Training 
Early morning wake ups 
Bedtime Anxiety (2 years+)
How to use your Sleep Bible
Log Reviews
Trouble Shooting
Will my baby cry?
As a gentle sleep consultant it's extremely important that parents are comfortable with their sleep approach. I teach a variety of sleep methods and combine different approaches to help your baby sleep. I will teach you to create a positive foundation looking at daytime routine, personal awake windows and how to choose the correct sleep method for your parenting values and child's temperament. We will also look at fixing overtiredness to help reduce tears. You and your child will be supported. Please remember crying is a way of your child communicating. 
How long do I have access to the course material?
You will be sent a Welcome Email with your portal log in details and that is yours to keep. Your online portal will have all of your course content and is yours to keep forever.
What is included?
Your programme includes: 
An exclusive programme built around my Expertise 

4 – 5 weeks of learning 

4 live Q and A calls

Sleep Training Videos teaching you to help your baby sleep through the night 

Age Appropriate 3 year sleep Bible on how to keep your baby sleep trained! 

Sleep Handouts

Reflux Support

Sleep Training Methods 

A Private Facebook group

Sleep Log Review Feedback 

A new support network of amazing families who are also sleep training

Group community Chat

Accountability! 

Life time access to your online portal! 
What happens after signing up?
You will receive a Welcome email. This will have your log in details and Facebook Group link. You can then log into your online portal and start your programme. 
What can I expect?
To get your baby sleeping through the night! 
On the correct daytime nap routine. 
On an age appropriate daytime feeding and solids schedule.
How to manage the next few years of sleep!
When will I see results?
All babies are different; some within a few days and others within 1 – 2 weeks.
Do you off a guarantee?
When you work with me, your investment is for my knowledge, expertise, time and experience. I will assess your child's circumstances and your goals. We will then start to work on and learn about a solution to fix your child's sleep issues for good. It's important for you to be consistent with your programme to see the desired results. 
What if I can't attend the live calls?
Don't worry! The calls will be available on replay on your online portal and Facebook Group within 24 hours. 
What's the difference between 1:1 and group programme?
The 1:1 programme is invaluable; you work with me personally for two weeks of intensive support to implement your personalised sleep plan. There is a requirement to commit to the programme during these two weeks; this means clearing your diary of social activities and focussing on training. My group programme is 4 weeks long with flexibility to dip in and out of sessions for you to watch the training at your pace, to connect with a community of like-minded families with the same issues and attend live calls within this community. With the same end result of teaching your child to self settle and sleep through the night! You have lifetime access to all the materials and videos. It's a magical combination that will help you to progress through your journey to fix you and your child's sleep issues.
BUT DON'T TAKE MY WORD FOR IT…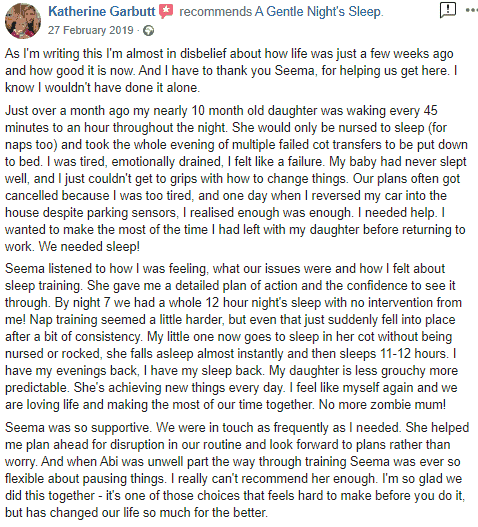 Copyright © 2023 Seema Barua. All Rights Reserved. Privacy | Terms of Service